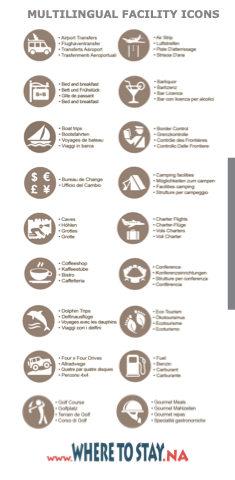 1
When planning your trip in / into Namibia consult the destination map (p4-5) to choose the destination that you want to visit. Consult the Maps (at the back) to determine the time it takes to travel between the different destinations to ensure that you plan sufficient time to travel and stop along the way. Remember, it's not only the destination, but the journey between destinations can be as fascinating as the destination itself. Use our detailed maps to identify the scenic routes between destinations.
1
2
Investigate at which destinations you want to overnight and the destinations that can be visited as en route stops. The "Famous" at each destination will provide useful information when making this decision.
3
A choice of accommodation establishments is given, ranging from upmarket unique lodges to delightful guest houses, pensions and camping spots.
4
Each destination also provides you with information regarding visitor services available, including activities on offer, unique to a certain destination. Also keep in mind the specialised excursions you want to do. Add 3-4 hours for an average excursion.
5
For ease of reference the various establishments have been placed on a destination map which are featured again on pages 4-5 in more detail.