Page 72 - WhereToStayHTMLonly
P. 72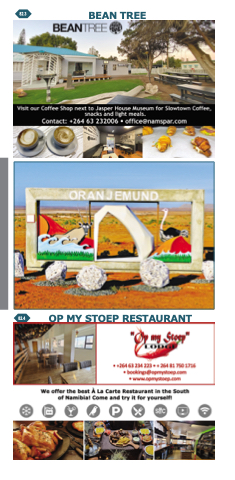 SELF-CATERING CHALETS
There are 15 self-catering chalets situated in a semi- circle overlooking a waterhole that is floodlit at night.
Each chalet has two bedrooms, each containing two single beds and a bathroom with a spacious shower. The beds are dressed with crisp, clean linen. The open-plan living area has a dining table and chairs, a sleeper couch and a flatscreen TV. The kitchen is equipped with a fridge, microwave, stove, pots, pans, kettle, toaster, crockery and cutlery.
Self-Catering Chalets & Campsites:
reservations1@erindi.com
CAMPSITES
Each campsite has its own bathroom with a toilet, solar-heated shower and handbasin, a fridge, washing-up and food-preparation area. Campsite's have their own vehicle awning, picnic bench and a braai with adjustable grid.
www.erindi.com
   00264 (0)83 330 1111/2/3/4
                                14.1
ERINDI - CAMP ELEPHANT
14.1
ERINDI - CAMP ELEPHANT
 WE INVITE YOU TO EXPLORE
4 x SELF-DRIVE ROUTES (100km+) CAMPSITES
OUR NATURAL WONDERLAND
    SWIMMING POOL
SELF-CATERING CHALETS
    70
ETOSHA
Erindi Camp-Elephant 195x193.indd 1
2017/10/12 2:02 PM
Home to the largest Lions & Elephants in the world!