Page 250 - WhereToStayHTMLonly
P. 250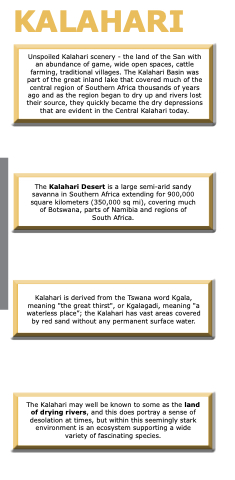 NAMIB NAMA & SUCCULENT DESERT
Zone Nr. Zone Name
Page Nr.
249-251 252-254
255-258 259-260 261-263
264-265
266-267
268-270
271-273
274-282
283-286
287-289
  47 72
50 49 48
73
45
51
52
44
43 46
Aus / Tiras Mountains
Bethanie / Helmeringhausen
Fish River Canyon Karas Keetmanshoop
Maltahöhe
Naukluft Mountains
Noordoewer/ Aussenkher
Orange River / Rosh Pinah
Sossus / Sesriem
Sossus North Sossus South
               248
NAMIB NAMA & SUCCULENT KAROO DESERT
Namibia's Southern Region is one of the landscapes making the difference to the Namibian destination, with vast, empty, ever-changing landscapes.
You will find peace and tranquility by the changing colours in this pristine wilderness. There are signs
of human activities but they only emphasise that nature dictates the course. The well known dunes of Sossusvlei, the Fish River Canyon and the hot springs of Ai-ais are only a few of nature's spectacular experiences to encounter. Other well-known destinations include the Quivertree forest, Giant's Playground, the Brukaros, a mass of dark coloured lava, wild desert horses around Aus and Duwisib, a castle built by Baron von Wolf for his American wife.
 Many activities round off the picture of the South. Ballooning around Sossusvlei and challenging hikes through the Naukluft Mountains with the ever flowing springs. From one-day hikes to an eight-day hikes for the really fit, take you away into breathtaking wilderness.
  For a real getaway, hike through the Namib desert in Namibia's biggest private nature reserve, the Namib Rand.
  Let nature dictate your day as the road becomes the goal, whilst finding tranquillity for the soul in the South.